Aaron Edwards - Hollywood Introductions
Aaron is tired of Hollywood Introductions.
Aaron Edwards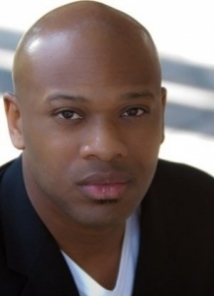 Aaron Edwards, a young stand up comedian, from a little town in Illinois just east of St. Louis, is moving boldly in his gift of acting and stand up comedy. Because of his upbringing, he's grown to be a down-to-earth individual whose style is clean and clever relating to all walks of life. Raised by his mother, who didn't have much money, Aaron's greatest influence was her love for Christ, her strong will, and her crazy sense of humor. Aaron picked up his mom's flavor, but says, "My father is my best friend." His father, a government executive, is giving, yet frugal with impeccable business acumen which also rubbed off on Aaron. "I'd say I got the best of both worlds."
Aaron Edwards is a natural born leader blessed with the favor of God in his life. He was a student-athlete, as well as the President of his student body at Columbia College, where he graduated with a B. S. in Business Marketing in 2005.
Embarking on comedy started with guidance from above, "I'll never forget my first real set. God woke me up at 1AM and said go write. I wrote a 15 minute set in 15 minutes and made it to the showcase round of BET's Coming to the Stage auditions, only having performed the set twice. "It's a gift," says Aaron. "I got my first standing ovation my first time on stage. I knew God wanted me to do something with the gift, but I just didn't know how it would play out. All I knew was I had to get to L.A."
After arriving in La La Land, he used his networking skills and quickly began networking with some of Hollywood's best.
Faced with the reality of needing to make a living, until his comedy kicks into high gear, the practical side of Aaron was directed toward corporate America, where he quickly became successful going from poverty to a six figure income. Still he was not happy, saying, "I would pray to God, 'Why am I even in L.A. if you will not release me to walk in my Gift?' The funny thing is that he never said I couldn't, he just told me what to do for the time being and wanted to see if I would be obedient. Well, now I know why he did what he did. My heart was not right, I wanted to act and do comedy for all the wrong reasons. It took not being involved to realize it. Now, I've come to realize and as I delight myself in the Lord, he is opening doors and truly making room for my gift. Oh, and by the way, he has given me a true love for the arts now."
Since his appearance on Season 4 of Bill Bellamy's Who's Got Jokes his comedy has been kicked into high gear. So watch out, America. Aaron Edwards is out of his shell. The greater Los Angeles area churches know it, the Laugh Factory knows it, the Comedy Store knows it, the Comedy Union knows it and soon you will too. He is also receiving respect from the big names in the game such as, Chris Spencer, David Arnold and Evan Lionell.
Aaron Edwards COMEDY VIDEOS
Aaron Edwards -Craig Robinson
Craig Robinson - Dom Irrera Live From the Laugh Factory
This week on Dom Irrera Live From the Laugh Factory, Dom is joined by special guest Craig Robinson.
Read More
SORRY, CONTENT ACCESS RESTRICTED
This video contains TV-MA rated content. To access this video, you must register, provide your birthdate, and opt-in to receiving TV-MA rated content
This video is only available in an uncensored version. To access this video, you must register, provide your birth date, and opt-in to receiving uncensored content.
Cancel