Al Del Bene - Miracles
Al Del Bene doesn't believe in miracles.
Al Del Bene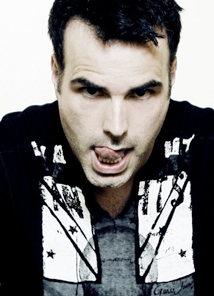 Al Del Bene, born near the end of the 20th century, started doing comedy in Boston at the age of 18, then quickly became a staple of New York City's underground comedy scene. After bleeding New York dry of every last joke about how miserable living there made him, Del Bene moved to sunny Los Angeles, and has since taken a huge apartment, bought a new car, and impregnated his wife in a very masculine way.

He is also a regular at the Laugh Factory on Sunset, and has appeared on Comics Unleashed, NESN Comedy All-Stars and was cut out of the film My Best Friend's Girl. Del Bene has traveled to Kuwait and Iraq with the USO to perform for our troops. He has also performed for more than one million people as a featured act on Dane Cook's Isolated Incident, Global Thermo Comedy Tour.

Since finishing the tours, he has welcomed a son into the world! Del Bene's act instantly gained 20 hilarious minutes upon the boy's arrival and it continues to grow. Del Bene recently performed at the LOL Comedy Festival as part of Jon Lovitz Presents which premiered on Showtime in April 2011.

Del Bene is glad that you read this, and is sick of writing about himself in the third person.
Al Del Bene COMEDY VIDEOS
SORRY, CONTENT ACCESS RESTRICTED
This video contains TV-MA rated content. To access this video, you must register, provide your birthdate, and opt-in to receiving TV-MA rated content
This video is only available in an uncensored version. To access this video, you must register, provide your birth date, and opt-in to receiving uncensored content.
Cancel