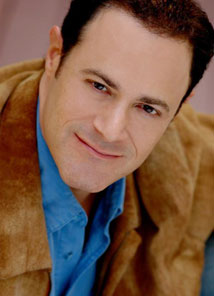 Allan Murray Biography
After graduating from the University of North Carolina School of the Arts, Allan Murray went back to his home city of Houston, Texas, where he joined the sketch comedy troupe at Houston's Comedy Workshop. He found himself performing, writing, directing sketches, and being an accomplished musician. He would also accompany the group on piano and synthesizer. Murray then went solo, developed a stand up comedy act, and began touring at comedy clubs and universities across America. After he arrived in Los Angeles, Murray quickly became a regular at all the prestigious comedy clubs such as the Comedy Store, the Improv, and the Laugh Factory.

His television appearances include Comedy Central's Make Me Laugh, Caroline's Comedy Hour, Showtime Comedy Club Network, Rosie O'Donnell's Stand-Up Spotlight, An Evening at the Improv, MTV's 1/2 Hour Comedy Hour, and The A-List. He has performed at the Montreal Just for Laughs Comedy Festival and has opened for such musical acts as Julio Iglesias and Franki Valli. Murray also directed, co-wrote, and co-starred in Vegarama, the critically acclaimed Las Vegas lounge show parody that was a long running favorite among the Los Angeles theater community.

He has guest starred on such shows as Caroline in the City, NewsRadio, DiResta, The Tim Curry Show, and In Living Color. Currently, he's co-starring opposite David Alan Grier in the Sony Pictures short Damned If You Do, which recently won first place at the Hollywood Film Festival and is continuing to tour the festival circuit.