Aries Spears - Customer Service
Aries Spears loves white customer service people.
Aries Spears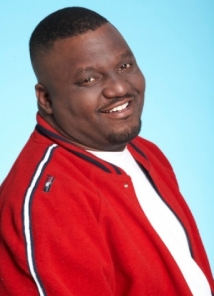 Ever since Chicago native Aries Spears was 14 years old, he has been a force to be reckoned with in the comedy scene throughout America. His quick wit, charisma, and ferociously aggressive style of comedy have earned him critical acclaim, high accolades, and above all, a busy schedule. As a principal cast member on MADtv, Spears brought a fresh, hip style to the already edgy program from the third through the tenth season. He has also found great success in the world of feature films. He appeared in Out-of-Sync and portrayed Red Foxx in Warner Bros.' Why Do Fools Fall in Love. In addition, Spears starred alongside John Leguizamo in TriStar's The Pest, and delivered his most notable performance to date as Cuba Gooding Jr.'s brother in Columbia's blockbuster hit Jerry Maguire.
Spears was born in Chicago but grew up in New Jersey. By age 14, he was belting out his fresh stylings in front of paying audiences at local clubs around his hometown. Shortly thereafter, he appeared on Russell Simmons' Def Comedy Jam on HBO and Showtime at the Apollo. The word was out about the prodigal superstar from then on, and in 1992, Spears moved to Los Angeles. Ultimately, his fierce momentum landed him on MADtv as a series regular, where he thrived for eight seasons. Additionally, Spears has made appearances on many talk shows, including Loveline, Vibe, The Keenen Ivory Wayans Show, Soul Train, and Late Friday. He has also lent his voice to an animated character on C-Bear and Jamal and had a recurring stint on Fox's The Best Damn Sports Show Period, where he created some of the show's funniest characters. Spears maintains a strong connection to his African roots and is involved in many charitable events, including a number of organizations that help abused women.
Aries Spears COMEDY VIDEOS
SORRY, CONTENT ACCESS RESTRICTED
This video contains TV-MA rated content. To access this video, you must register, provide your birthdate, and opt-in to receiving TV-MA rated content
This video is only available in an uncensored version. To access this video, you must register, provide your birth date, and opt-in to receiving uncensored content.
Cancel