Ben Begley - Female Orgasm
Female Orgasms....they DO EXIST!
Ben Begley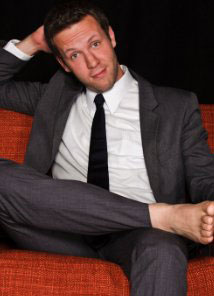 Ben Begley grew up in Akron, Ohio, and graduated from Ohio University, where he got a Bachelor of Fine Arts in Acting, and started performing stand up around campus at really craptastic open mics.

Since arriving on the West Coast, Begley has appeared in over a dozen national and regional commercials, including Bud Light "Dude" Campaign, Burger King, Sears, Starz, Olive Garden, Jim Beam, Toyota, Nationwide Insurance, and Pizza Hut.

Begley also hosted his own weekly television show on ReelzChannel for a year called The Checklist, and live interstitial for Game Show Network's High Stakes Poker. His television work includes Raising Hope, iCarly, and the new legal comedy Franklin & Bash. He co-founded the sketch group Dinghis Khan, and performs with them regularly at the Fake Gallery, in addition to posting a ridiculous amount of sketches on www.funnyordie.com.

With his stand up, he brings an enthusiasm and boyish innocence to even the most vulgar topics, focusing on observational humor and having no shame in sharing his plethora of embarrassing anecdotes. A featured comic in the LA Comedy Fest and a regular on the Laugh Factory's Fresh Faces show, Begley enjoys every second he's on stage, and is incredibly grateful for all the opportunities he's been given.
Ben Begley COMEDY VIDEOS
Ben Begley -Self Featured Film
Ben Begley - Self Featured Film
Does your life suck? If not, get a movie made about you!
SORRY, CONTENT ACCESS RESTRICTED
This video contains TV-MA rated content. To access this video, you must register, provide your birthdate, and opt-in to receiving TV-MA rated content
This video is only available in an uncensored version. To access this video, you must register, provide your birth date, and opt-in to receiving uncensored content.
Cancel