Brian Holtzman - Gay Marriage (Soapbox)
Brian Holtzman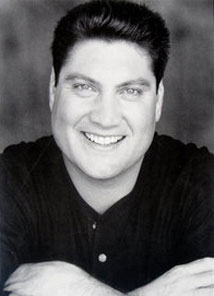 Brian Holtzman is originally from Long Island, New York, where he graduated from General Douglas MacArthur High School. After being honorably discharged from the United States Air Force, Holtzman moved to the Bay Area, where he began performing stand up at the Holy City Zoo, the Other Cafe, the Punchline and other clubs throughout Northern California, where he became a favorite. His often perplexed scenarios of everyday life, intertwined with his own neurotic behavior, are not to be missed by any serious aficionado of comedy.

Since relocating to Los Angeles, Holtzman has added "actor" to his resume, having appeared on My Wife and Kids, Mind of Mencia, Minding the Store, and in movies like Pauly Shore Is Dead, Sheep Man, Foolish, and Looking for Lenny.

Holtzman's stand up was featured on National Lampoon Live: New Faces - Down and Dirty, which is available on DVD.

Holtzman is currently living in Southern California.
Brian Holtzman COMEDY VIDEOS
Brian Holtzman -Hillary Clinton vs.
Hillary Clinton vs. the First Amendment at The Laugh Factory
When Hillary visits the Laugh Factory, don't expect the First Amendment to end. Mike Marino, Dom Irrera, Greg Fitzsimmons, Tiffany Haddish, and Brian Holtzman prove the comedy stage is one of the last bastions of free speech.
Read More
SORRY, CONTENT ACCESS RESTRICTED
This video contains TV-MA rated content. To access this video, you must register, provide your birthdate, and opt-in to receiving TV-MA rated content
This video is only available in an uncensored version. To access this video, you must register, provide your birth date, and opt-in to receiving uncensored content.
Cancel