Bruno Lucia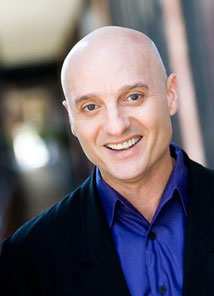 One of Australia's most popular corporate comedians and television personalities, Bruno Lucia has well and truly earned his comedy stripes playing the live stand up comedy circuit around Australia, the United Kingdom, and the United States. Lucia's list of international stand up comedy credits include Rascal's Comedy Hour on HBO. In the United States, he has performed at Catch a Rising Star in New York and the Comedy Store in Los Angeles. In the United Kingdom, he has performed on Live at Jongleurs on UK Gold and at the Comedy Store in London. He has recently performed in places such as Amsterdam, Hong Kong, Bangkok, New Guinea, and New Zealand.

This multi-faced, multi-cultural, and multi-media performer is a stand up comedian, master of ceremonies, musician, corporate entertainer, and actor who is best known for his work on Nine Network's hit sitcom All Together Now, where he turned the lovable sleaze and agent to the stars, Wayne Lovett, into one of the show's most popular characters and made his phrase "Chicky Babe" a national catch cry. As an actor, Lucia has been featured in many dramatic acting roles, guest starring in series such as Stingers, A Country Practice, and Ring of Scorpio. On the big screen, he has appeared in movies such as Sweet Talker, The Time Guardian, and Love's Brother.

As well as writing his own comedy, Lucia is also an accomplished musician and songwriter, having played on the professional rock circuit for 10 years. On the corporate comedy scene, whether it is as an MC or after dinner comedy speaker, Lucia is an inoffensive, funny, and reliable laugh maker. He is a polished presenter who is guaranteed to supply the laughs, having had extensive experience with product launches, advertising campaigns, training videos, and award nights.
SORRY, CONTENT ACCESS RESTRICTED
This video contains TV-MA rated content. To access this video, you must register, provide your birthdate, and opt-in to receiving TV-MA rated content
This video is only available in an uncensored version. To access this video, you must register, provide your birth date, and opt-in to receiving uncensored content.
Cancel