Cameron James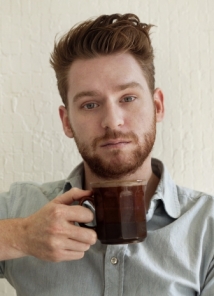 Cameron James is a stand up, sketch performer, actor, writer, musician, and the devil on your shoulder.
After coming second in Australia's biggest open mic competition, RAW Comedy, in 2012, CJ has gained a reputation as a hard working, and risk taking, up and comer on the national circuit. On stage, CJ is a troublemaker, confessional, electric, a little dark, sometimes dirty, open hearted, charming as hell; with frequent bursts of freeform improvised stupidity. He says the wrong things the right way, and audiences can't help but love the little animal. He is fast becoming a sought out feature act, and his laid back and personal style make him a natural host.
As one half of cult musical double act JEKYLL x JAMES, with Jared Jekyll, Cameron has spent 2014 touring their 4.5 star (Adelaide Advertiser) comedy play, Paradise, around the country. The duo have taken their high energy, punk-hip hop combination of "Scooby Doo meets The Mighty Boosh" (Heckler) to Perth, Adelaide, Sydney and Melbourne International Comedy Festival, performing sell out shows to critical acclaim.
With a prolific output and razor wit, CJ's live performances led to him becoming a regular writer for ABC 2's The Roast over the 2013 season. Since then he has gained credits as a permanent writer and performer for satirical comedy group, A Rational Fear, which has allowed him to appear on FBI Radio, Radio National, and before a sell out Sydney Opera House audience for The Festival Of Dangerous Ideas, as well as all over the internet.
SORRY, CONTENT ACCESS RESTRICTED
This video contains TV-MA rated content. To access this video, you must register, provide your birthdate, and opt-in to receiving TV-MA rated content
This video is only available in an uncensored version. To access this video, you must register, provide your birth date, and opt-in to receiving uncensored content.
Cancel