Charles Sanchez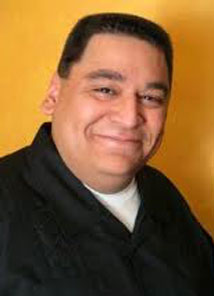 Charles Sanchez is a nuclear explosion of talent and diversity that has audiences talking across America. The Mexican American and Native American comedian from Long Beach, California, dazzles crowds with quick wit, impeccable storytelling, and an array of character voices that would keep MADtv busy through the next several presidents. His talents have not escaped the attention of Hollywood big shots. "His Bumper character is one of the funniest things I've seen in years," raves legendary casting director Lisa Beach. Showbiz Central writer Peter Von Schull is also impressed, and stated, "Sanchez has enough funny characters in his act to keep people entertained all night."

Sanchez is a longtime veteran of stand up comedy, with several comedy club and television appearances. He is a writer and star of the hit Si TV sketch comedy show, Unacceptable Behavior, which features some of the best talent in comedy today. Other small screen credits include BET's Comicview, ABC's Urban Latino TV, Si TV's Inside Joke and The Drop, and the longtime Galavision smash, Que Locos! Sanchez has performed at notable clubs such as the Ice House in Pasadena, the Improv, the Laugh Factory, and the Comedy Store in Hollywood. Sanchez can be seen most weekends, hosting some of the biggest shows for the Ice House.

Sanchez is a headline talent with the ability to excel in any environment. Comedy clubs, colleges, and casinos are just some of the places that the talented comic appears. He is also an icon at weekly shows and regional conventions for the American Indian Youth Conference, Hispanic Business Conference, Narcotics Anonymous, and Alcoholics Anonymous. These conventions boast some of the best talent in the country. Recently, Sanchez traveled with other comedians to entertain United States troops all over the world. The trips were a huge success. Sanchez has performed with some of today's biggest stars. These include George Lopez, Paul Rodriguez, Pablo Francisco, and Carlos Mencia to name a few.

Whether it is a top notch comedy club, a Las Vegas casino, or a theater filled with college students, Sanchez has the ability to flourish at any place and at any time. See his contact information to book this increasingly popular comedian, but don't wait too long. Pretty soon his calendar will be full!
SORRY, CONTENT ACCESS RESTRICTED
This video contains TV-MA rated content. To access this video, you must register, provide your birthdate, and opt-in to receiving TV-MA rated content
This video is only available in an uncensored version. To access this video, you must register, provide your birth date, and opt-in to receiving uncensored content.
Cancel