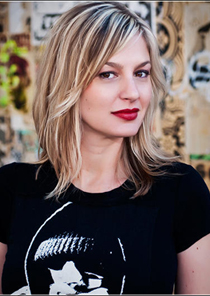 Christina Pazsitzky Biography
A regular on the popular E! show Chelsea Lately, Christina Pazsitzky, pronounced Puh-sh*t-ski, tours comedy clubs nationwide. In the past few years, she earned her stripes by entertaining the troops in the Middle East, Africa, and South Korea. A Los Angeles native, Pazsitzky is a comedian with spunk. What you can expect from her is the unexpected. Please don't call her a girl comic, Pazsitzky's comedy ignores easy labels and covers all sorts of topics. Her comedy effortlessly coasts from topic to topic, always with a heavy dose of wit and charm.

A longtime veteran of television, you can also see Pazsitzky on E! Wildest TV Show Moments and The Smoking Gun Presents: World's Dumbest. She hosted the FX series The Hitchhiker Chronicles and was a cast member on MTV's Road Rules in Australia. She was a regional finalist on season six and seven of NBC's Last Comic Standing and also appeared in the feature film TV: The Movie with the boys from Jackass.

Pazsitzky performed at the prestigious Aspen Rooftop Comedy Festival in 2011. She worked as a writer on Chelsea Lately and was given the Up and Coming Writer Award in Animation Magazine for her work in writing comedy.

Bonus points for knowing her before becoming a comedian, Pazsitzky studied philosophy at the University of Oxford and attended law school for two entire weeks. Smart, irreverent, and funny, all in one spunky Pazsitzky package.