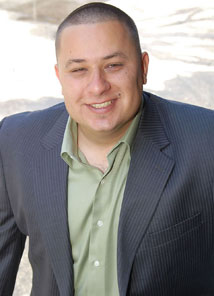 Cisco Biography
Natural talent describes this young, stand up phenomenon! In just five short years, Cisco has risen to the top of the comedy industry and has performed and headlined in some of the country's top entertainment venues. Cisco has also starred and featured in national commercials for Tecate Light, Coca-Cola, Cingular Wireless, and feature films like The Rap Game, Party Animalz, and The Comedy Bandidos. He has also graced the stage with such well-known stand up comedians, such as Willie Barcena, Louis CK, Drew Carey, Earthquake, Pablo Francisco, Gabriel Iglesias, Malo, Carlos Mencia, Paul Mooney, Rudy Moreno, Charlie Murphy, Chris Rock, Paul Rodriguez, Damon Wayans, Tony Woods, and many more!

Cisco was born in Watts, California, at Martin Luther King Jr. Hospital. Cisco's comedic talent began at a young age. He was not an ordinary child, preferring to be around adults, entertaining them however he could. He mimicked everything he had seen on television and movies, and the adults rewarded him with their laughter.

Cisco's early influences consisted of Mexican film and television stars, Mario Moreno Cantinflas, Roberto Gomez Bolaños Chespirito, as well as American stars, Jackie Gleason and Redd Foxx. The originality and realness of the comedy are what captivated Cisco and won him over. "I would stare at myself in the mirror and try to mimic every detail, rehearse every line as if I was in the show," says Cisco. "I wanted to learn from whom I considered the best, to be the best!"

Cisco is the owner of Muy Funny, Inc., an entertainment company related to businesses across all media and platforms. He has written and produced several short films and sketches, and is in the process of writing and creating two feature films.