Laugh Factoria Spanglish - Episode 01
Cisco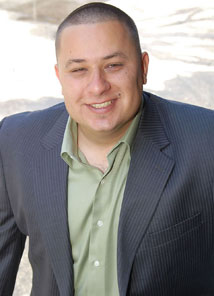 Cisco is an American Comedian made with Mexican parts. His name is not of the household variety… yet! But since 2003, Cisco has been taking the necessary steps to arrive at that exclusive destination. His bilingual talents have made him a stand-up success in London, Mexico City, Los Angeles, as well as other metropolitan cities, always leaving a great and lasting impression behind.
In 2003, Cisco took to stand-up like a hipster to coffee shops. His blue-collar work ethic eventually led him to becoming a "paid" regular (since 2008) at all the major comedy clubs in Hollywood. One of Cisco's greatest honors is having his name and photograph placed on the Comedy Store and Laugh Factory wall, respectively, amongst the greatest comedians and some of his childhood idols.
Cisco's drive and dedication have landed him numerous appearances on Nuvo, Mun2, Univision, ESPN Radio, Televisa (Mexico) and plenty of national commercials plus independent films, all without ever having major representation. Cisco has also had the great fortune of always being asked for a repeat performance.
In 2011, Cisco was asked to take over as the regular host of the Playboy Radio en Español morning show on SiriusXM. He instantly took the show to another level with his unorthodox, yet extremely entertaining interviews of celebrity guest, always receiving praise (still to this day) from both his guest and fans.
In 2013, Cisco took his talents to ESPN Radio, filling in and hosting occasionally on the sports media giant's Los Angeles affiliate. He has had the pleasure and honor to share the studio with Max Kellerman, Marcellus Wiley, John Ireland and Steve Mason.
Later in 2013, Cisco was asked to perform at the inaugural Cabo Comedy Festival in Cabo San Lucas, Mexico in both English and Spanish, co-producing the latter. At the festival, Cisco was also fortunate to have Levity Entertainment select him to make a second appearance on Nuvo's "Stand-Up & Deliver" recorded at Sammy Hagar's renown Cabo Wabo Cantina.
In 2014, Cisco became the first American born, American raised comedian to perform (twice) on Televisa's (Mexico's massive television network) Stand Parados, hosted by Adal Ramones. Cisco since starred and co-produced Locos y Contentos for the Estrella TV network and recorded "Stand-Ups Unidos" a talk/stand-up show pilot.
Currently, Cisco is working on several media projects, including writing his own television pilot, feature film and beginning his own podcast entitled "CISCOlution". He recorded his first identical routine stand-up special, in both English and Spanish, entitled "Muy Funny" in early September, 2015 at the Laugh Factory in Long Beach.
SORRY, CONTENT ACCESS RESTRICTED
This video contains TV-MA rated content. To access this video, you must register, provide your birthdate, and opt-in to receiving TV-MA rated content
This video is only available in an uncensored version. To access this video, you must register, provide your birth date, and opt-in to receiving uncensored content.
Cancel