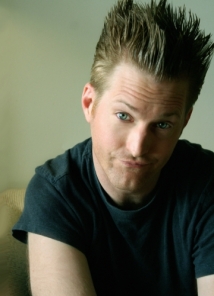 Claude Stuart Biography
After winning The Funniest Person in SMU Contest in 1995, Claude Stuart fell in love with and began pursuing stand up comedy. SMU technically stands for Southern Methodist University, however, Stuart is convinced it stands for sex, money, and underwear.

Stuart has been professionally rocking comedy clubs, colleges, casinos, military bases, and private parties throughout the world for the last 12 years. Whether he is performing in a sold-out theater to thousands of fans or in a rowdy bar in a tiny town to strangers who look like extras from The Roadhouse, Stuart always gives 100% and is able to connect with anybody.

Stuart has done numerous USO and AFE tours for our troops, and he has been seen in many national commercials, including Doritos, Honda, Heineken, Jeep Cherokee, Grape-Nuts, and even Midol. Seriously. Stuart worked for HBO's Dennis Miller Live for three seasons, and he has made several appearances on the nationally syndicated The Bob & Tom Show. He has appeared on television shows such as Comics Unleashed, That '70s Show, Scrubs, The Best Damn Sports Show Period, Last Comic Standing season two, Yo Momma, Oblivious, Talk Soup, and Beverly Hills, 90210. He has also appeared in feature films like Starship Troopers, Man on the Moon, and in the upcoming 15 Minutes of Fame, which was produced by Don Faison of Scrubs. Stuart is also the star of Dick Nobody, the hit series on the Comedy Time Network, and he recently won his episode of Make a Hot Girl Laugh for www.comedy.com.

So, what can you expect from this optimistic, hyperactive dyslexic from Mississippi?

Well, Stuart is a human cartoon on stage. His hilarious physicality, his shameless stories of his consistently bad luck, his unpredictable audience improvisation, and his nonstop energy make Stuart stand out as a unique, top notch, must-see comedian.