Dan Gabriel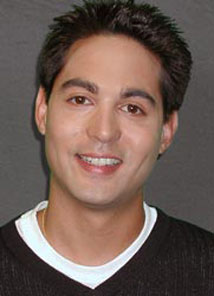 Dan Gabriel is one hilarious stand up comedian because you already know him. Everybody has a buddy just like Gabriel. He is that friend of yours who says something inappropriate to your grandmother about her dentures. Gabriel is your cool cousin who tells you about a band a few months before their hit single blows up the radio. He is that guy who you stayed friends with even after he broke up with your sister. It's Gabriel's ability to connect with audiences on a personal level that makes him funny.

Half Filipino and half bald white dude is what makes up Gabriel's vaguely ethnic look. Born and raised in a surfing community next to the beach, but forced to watch the movie Jaws at age three, left him confused and scared of water. Once in high school, Gabriel developed a sense of humor in an attempt to be as cool as guys who could surf. While attending University of California, Davis, Gabriel's friends forced him to try stand up comedy. Soon, Gabriel was opening for comedy legends like Dave Chappelle, Mitch Hedberg, and George Lopez. After moving to Los Angeles, Gabriel won The Take out Comedy Competition which led to hosting his own show, Asia Street Comedy, on AZN Television.

Gabriel's comedy is PG-13. Without graphic violence or nudity, Gabriel casually delivers what his friends refer to as smart, stupid comedy. He is a soft sell, who doesn't beat you over the head with his material. If you like a joke, cool. If not, there's another one coming in about 10 seconds. Gabriel has appeared on Comedy Central's Premium Blend, The Late Late Show with Craig Ferguson, and Star Search just to name a few.
SORRY, CONTENT ACCESS RESTRICTED
This video contains TV-MA rated content. To access this video, you must register, provide your birthdate, and opt-in to receiving TV-MA rated content
This video is only available in an uncensored version. To access this video, you must register, provide your birth date, and opt-in to receiving uncensored content.
Cancel