Daniel Tosh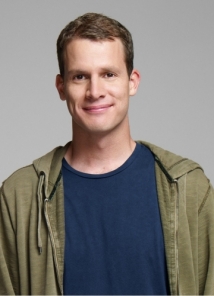 The unusual mind of Daniel Tosh has earned him the admiration of his peers by winning over audiences with his unique brand of stand-up comedy. Tosh is one of the most requested headliners in the country. He has also quickly evolved into one of the most popular and successful college acts, having performed at more than 700 campuses in his career. Tosh's casual style and sharp material have proven to be greatly appreciated by his audiences, young and old, but mostly young. Tosh made his network debut on the Late Show with David Letterman and has returned to perform several times since. Tosh has also appeared multiple times on The Tonight Show with Jay Leno. His previous television credits include The Late Late Show with Craig Kilborn, Jimmy Kimmel Live!, Last Call with Carson Daly, VH1's Best Week Ever with Paul F. Tompkins, FX's The Test, MTV's Punk'd, Comedy Central's Premium Blend, Friday Night Stand Up, and Live at Gotham. In 2002, he taped his first stand-up Comedy Central Presents special at the Hudson Theatre in New York City. While still living in Florida, Tosh hosted his own popular late night television show, Tens.
Tosh has performed at the most significant comedy festivals across the globe. In 1998, he appeared in the "New Faces" at the Montreal Just for Laughs Comedy Festival. After the great response generated, he was invited to return two years later in his own televised gala at the Theatre St. Denis. In addition, Tosh has also turned in triumphant festival performances in New Zealand and Kikenny, Ireland, one of Europe's largest comedy festivals, as well as multiple trips to HBO's The Comedy Festival in Aspen, Colorado. In 2005, Tosh was named one of Variety's "10 Comics to Watch." His premiere CD, True Stories I Made Up, was released in November of 2005 through Comedy Central Records. His one-hour special, Daniel Tosh: Completely Serious, premiered on Comedy Central in June 2007. Since then, he has been featured in Mike Myers' latest film, The Love Guru, hosted Live at Gotham for Comedy Central, and is enjoying himself touring theaters throughout the country. Tosh can be seen starring in Tosh.0, a series he created for Comedy Central.
SORRY, CONTENT ACCESS RESTRICTED
This video contains TV-MA rated content. To access this video, you must register, provide your birthdate, and opt-in to receiving TV-MA rated content
This video is only available in an uncensored version. To access this video, you must register, provide your birth date, and opt-in to receiving uncensored content.
Cancel