Danny Bhoy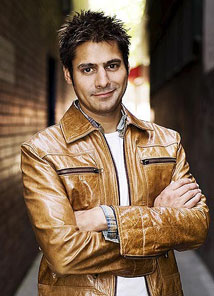 Danny Bhoy began stand up in 1998. A year later, he won The Daily Telegraph Open Mic Award, Britain's biggest competition for comedy newcomers. In 2001, he took his first full length solo show to the Edinburgh Festival, where, within a week, he had sold out his entire three week run. The following year, Bhoy returned to Edinburgh with a new show which attracted more and more fans, bowled over by his "razor-sharp mind and quick-witted one liners." Over the next few years, Bhoy eschewed the regular comedy club scene in favor of full length shows, which seemed the natural progression for a comic who began to display an innate talent for storytelling on stage. Since 2003, Bhoy has made annual appearances at all the major comedy festivals around the world. His first solo show at the Melbourne International Comedy Festival was described as a stunning debut by one of the finest observational comics around.

The success of his live work led to various television appearances on high profile national Australian television shows, such as Rove Live, The Glass House, and several Melbourne International Comedy Festival galas. Since 2003, Bhoy has regularly been the top selling box office comedian in his hometown of Edinburgh, but in just a few years, he has also broken ticket records at festivals in Australia and New Zealand. His 2005 show about his travels around Australia was described as "effortlessly funny" by one critic and "the stand up equivalent of Bill Bryson" by another.

In 2005, Bhoy was invited to take part in the prestigious Montreal Just for Laughs Comedy Festival, where he received rave reviews for his barnstorming set on the televised gala, leading the Montreal Gazette to describe him as "the stand out hit of the festival" and was nominated for a Gemini Award for Best Individual Comedy Performance that year. In November 2005, Bhoy was also invited to take part in the inaugural The Comedy Festival in Las Vegas, alongside some of the biggest names in comedy, including Jerry Seinfeld and Chris Rock.

2007 saw Bhoy embark on his first massive tour of Australia, which included 94 dates across all the major regional towns and cities, and ended with a triumphant series of shows at the Sydney Opera House, where he filmed his first DVD, Danny Bhoy: Live at the Sydney Opera House. He then went on to his third sell out tour of New Zealand and became the first stand up comedian ever to do a run of English speaking stand up shows in India.

Bhoy also returned to Montreal in 2007 for the rare accolade of performing a 10 night solo run at the Gesu Theatre, which was completely sold out and received further rave reviews, including some by the Montreal Gazette. The show attracted major interest from all the major American television networks.

In June 2008, Bhoy started his major tour of the United Kingdom and a return to the Edinburgh Festival for his eighth solo show. 2009 brought Bhoy to the first annual Chicago Just for Laughs Comedy Festival, a return to Toronto for a sold-out run at their Toronto Just For Laughs Comedy Festival, and the Montreal Just for Laughs Comedy Festival, where Bhoy taped his premiere Comedy Central one hour special, Danny Bhoy: Subject to Change. The special is set to be released in the first quarter of 2010 in the United States and Canada. Bhoy is now touring the United States and is set for another tour of Canada.
SORRY, CONTENT ACCESS RESTRICTED
This video contains TV-MA rated content. To access this video, you must register, provide your birthdate, and opt-in to receiving TV-MA rated content
This video is only available in an uncensored version. To access this video, you must register, provide your birth date, and opt-in to receiving uncensored content.
Cancel