Danny Cho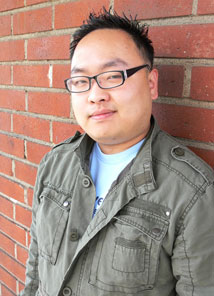 Danny Cho is an unapologetic comedian who rants about unusual events from his life. He went to school as the only Asian American in East Los Angeles. He recited the Pledge of Allegiance in Spanish. His Chinese best friend's closet smells like moth balls. He even dealt with sexual molestation on a recent skydiving trip.

Two years ago, Cho was just another business consultant stuck in a nine to five job, spending his time figuring out how he can miss work, and then playing up the different scenarios in his mind. He came up with two solutions, either get drunk and swerve the lanes of Beverly Hills in front of a cop, get arrested and miss a couple days of work, or quit and become a comedian. He chose the latter.

It was at his second grade spelling bee contest that Cho first got the taste of comedy. He was given the word zucchini and misspelled it as z-o-o-k-i-n-i out of ignorance. It got the crowd roaring with laughter and the comedy bee had stung him.

While Cho attended the University of California, Los Angeles, he started performing stand up at countless numbers of colleges, as well as on Kollaboration, the biggest Asian American talent show in the nation. Through the power of YouTube, Cho soon became a star among the Asian American community, and soon thereafter, landed the role of Pongo, the fat, mute, Thai movie critic on MADtv. Next up was a call from Hollywood, landing Cho a role on the Super Bowl's Bud Light commercial.

Cho continues to perform throughout the country and is embarking on his first college tour this school year.
SORRY, CONTENT ACCESS RESTRICTED
This video contains TV-MA rated content. To access this video, you must register, provide your birthdate, and opt-in to receiving TV-MA rated content
This video is only available in an uncensored version. To access this video, you must register, provide your birth date, and opt-in to receiving uncensored content.
Cancel