Danny Kallas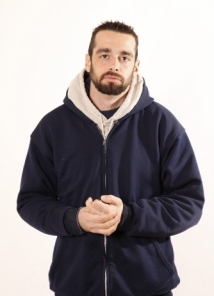 For over a decade, Danny Kallas continues to be a favorite at some of the best alternative rooms and a go-to feature act for many of the top comedy clubs
in the country.
He's also participated in a variety of comedy festivals over the years, all of which were reached by hot-air balloon.
In 2016, he started headlining and now his preferred method of transportation is a forklift.
TV credits!
Conan, The Tonight Show, Late Night, Flavor of Love. Does Danny have them? No. What's he got then? A solid stand-up act he's worked on night after night since 2006.
He's sometimes dirty, often silly, and not for everyone. You want vanilla? Take a hike! You want spumoni topped with belly button lint? Let's go!
Besides being a stand-up comedian, Danny
is the co-creator of Comedians You Should Know (CYSK,) the first comedian-produced, stand-up comedy showcase to have a show in the USA's three biggest cities. CYSK has gotten critical-acclaim from several media outlets, most notably The Onion's A.V. Club who said: "The genuine quality of talent on display is unrivaled in Chicago."
In his spare time, Danny likes playing pool...in dive bars, watching sports...in dive bars, and trying to figure out how to dry off his hands without using the community towel...in dive bars.
SORRY, CONTENT ACCESS RESTRICTED
This video contains TV-MA rated content. To access this video, you must register, provide your birthdate, and opt-in to receiving TV-MA rated content
This video is only available in an uncensored version. To access this video, you must register, provide your birth date, and opt-in to receiving uncensored content.
Cancel