Dom Irrera Live From The Laugh Factory - Dave Attell Returns
Comedian, writer and actor Dave Attell stops by the show to talk to Dom about Catholic guilt, the difficulties of working clean, and why hotel porn doesn't do the job.
Dave Attell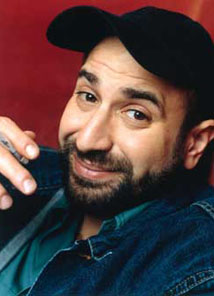 Dubbed a "comedian's comedian" by his peers, Dave Attell's sardonic wit made him famous in comedy clubs across the country. A New Yorker through and through, Attell rose to fame on the improv stage but hit the big time as host and creator of Comedy Central's Insomniac with Dave Attell. Named one of Entertainment Weekly magazine's 25 Funniest People in America, Attell also appeared as a commentator on The Daily Show with Jon Stewart and wrote for Saturday Night Live.

Attell made his television stand up debut in 1988 on VH1's Stand Up Spotlight hosted by Rosie O'Donnell. The show also featured appearances from up-and-coming comics including Jay Mohr, Margaret Cho, and Lewis Black. A bigger break for the comedian came however, in 1993, when he made his debut on the Late Show with David Letterman. After seeing him perform stand up on the late night talk show, producer Lorne Michaels approached Attell about writing and performing on Saturday Night Live. A no-brainer for any comic, Attell leaped at the chance, writing for the duration of the 1993-94 season and often appearing in sketches as well.

Following his Saturday Night Live stint, Attell was featured on two HBO specials, the 1995 Young Comedians Special, alongside fellow comedians Dave Chappelle, Anthony Clark, and Louis CK, and that same year, his first very own 60 minute special, HBO Comedy Showcase. Attell next appeared as the voice of Squiggly Dave on Comedy Central's popular animated series, Dr. Katz, Professional Therapist. Establishing a report with the network, Attell was later featured in an installment of Comedy Central Presents in 1999. Attell went on to work as a regular commentator on the satirical news series, The Daily Show with Jon Stewart. Arriving on the series in 1999, after the departure of previous host Craig Kilborn, Attell found himself yukking it up alongside fellow New York comedian, Jon Stewart, an old friend from his comedy club days. Working on the series for three years, Attell created a hilarious commentary piece called the "Ugly American," which was a big hit with viewers.

A self-proclaimed insomniac, Attell pitched a show idea to Comedy Central in 2001. A camera crew would follow him post comedy gig, as he hit the bars and clubs of each town on his comedy tour. The hit travelogue series Insomniac with Dave Attell was born and became a hit for Comedy Central. The series, which Attell described as "a cross between Girls Gone Wild and Cops," allowed the comedian to combine two of his favorite past times, booze and comedy. After four seasons on Insomniac with Dave Attell, Attell filmed a series of hour-long specials of the travel series, taking the show to Japan, England, Germany, and Brazil.

In 2003, Attell made regular appearances on the short-lived controversial show, Tough Crowd with Colin Quinn, alongside fellow comedians from Greenwich Village's Comedy Cellar club. As an established comedian, Attell hosted his own comedy special in 2005, Dave Attell's Insomniac Tour Featuring Sean Rouse, Greg Giraldo and Dane Cook. In 2006, Attell made an appearance on comedian Carlos Mencia's series, Mind of Mencia.
Dave Attell COMEDY VIDEOS
SORRY, CONTENT ACCESS RESTRICTED
This video contains TV-MA rated content. To access this video, you must register, provide your birthdate, and opt-in to receiving TV-MA rated content
This video is only available in an uncensored version. To access this video, you must register, provide your birth date, and opt-in to receiving uncensored content.
Cancel