David Arnold - Work Out Videos
David Arnold doesn't need to get prison fit....
David Arnold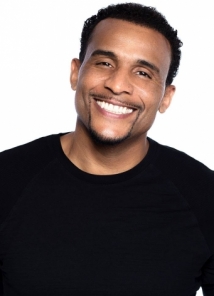 David Arnold continues to make strides in his career with the release of another self-produced DVD, I've Never Heard of You Either! Arnold is setting the stage to make a bigger name for himself in this comedy game. His last comedy DVD, the Next Level Comedy Series, Light Skin vs. Dark Skin, with fellow funnyman Rodney Perry, proved to be a success. Arnold also teamed up with seasoned writer Anthony C. Hill from Eve, Between Brothers, The Parent 'Hood, and Meet the Browns, and created a sitcom pilot series, Life with Dave, based off Arnold's internet video blogs and stand up. Arnold's gift to make people laugh can be traced back to his very first recorded performance on his comedy CD, Cause I Gotta Go to Work in the Morning, which was released under Uproar Entertainment Records and is available in all major music outlets across the country. Arnold delivers fresh, edgy humor that keeps you smiling again and again. His unique opinions on life, love, and family are enough to bring a breath of fresh air to any stage.

Arnold also found a voice on YouTube and Facebook with his popular video blogs, making the phrases "Credits Bitches" and "Get Yo Sh*t Together" familiar among the strong internet following he's created. Arnold is also developing a web series called Nurse Dave based around his former life as a male nurse, with a dynamite comedy team, Working Bug Media.

Arnold recently joined the writing staff of Tyler Perry's House of Payne and Meet the Browns. He also hosted the first season of TV One's Black Men Revealed, where Arnold uses his sense of humor to bring real issues to the table between our black men and women. Arnold added writer and director to his list of accomplishments by releasing a series of his short films, Because My Stand Up Is Not Enough!!, "Til' Death Do Us Part?," and "The Garage Sale," proving that Arnold's eyes for comedy runs deeper than just live performances. All of Arnold's films have been screened in film festivals, including the Hollywood Black Film Festival, the Pan African Film Festival, the Boston Film Festival, and the Santa Barbara International Film Festival. Arnold has spring boarded himself into an entirely different category now and is in development with two feature films to be produced by his production company, Manor House Entertainment.

Arnold has performed at the Montreal Just for Laughs Comedy Festival, a segment entitled "The Masters," as well as an appearance on Comedy Central's Jamie Foxx Presents Laffapalooza with Jamie Foxx and Cedric the Entertainer, The Tom Joyner Show, Baisden after Dark, The Best of Comics Unleashed with Byron Allen, BET's Comicview, HBO's Entourage, and Def Comedy Jam. Soon, Arnold will be joining the elite group of comics that have appeared on The Tonight Show with Jay Leno.

Often compared to such star powers as Richard Pryor, George Carlin, and Bill Cosby, Arnold is nothing less than a comedic genius. World-class motivational speaker, Tony Robbins, commented that Arnold "brings new meaning to the phrase 'laughter is the best medicine.'"

Based out of Los Angeles, Arnold can be seen performing at the Laugh Factory, the Comedy Union, the Comedy Store, the Improv, and the Ice House. Arnold is guaranteed a chair at the table of comedy success.
David Arnold COMEDY VIDEOS
SORRY, CONTENT ACCESS RESTRICTED
This video contains TV-MA rated content. To access this video, you must register, provide your birthdate, and opt-in to receiving TV-MA rated content
This video is only available in an uncensored version. To access this video, you must register, provide your birth date, and opt-in to receiving uncensored content.
Cancel