Deep Fried Man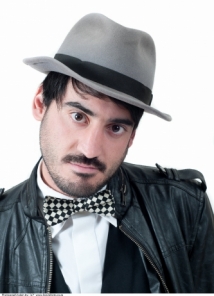 In just a little over two years in the industry Deep Fried Man has developed a blend of music, comedy and satire that is clever, controversial and completely unique.
He has won multiple awards - Newcomer at the 2011 Comics Choice Awards, a Standard Bank Ovation Award for his debut one-man show Deeply Fried and he was joint winner of the 2010 Parkers Comedy Showdown.
He has been a part of many of South Africa's biggest comedy events (46664's It's No Joke, The Jozi Comedy Festival, The Heavyweight Comedy Jam) and has been featured on television and in films (Material, Laugh Out Loud, Tonight With Trevor Noah, Late Nite News with Loyiso Gola, Opening Guys, MTV Base Meets, Comedy Central).
He has also achieved viral YouTube success with "An Idiot's Guide to the South African National Anthem," a collaboration with comedian Gareth Woods, and his attempts to poke fun at Helen Zille accidentally got her trending worldwide on Twitter. The highlight of his career so far, though, was playing "Ice, Ice Baby" to Vanilla Ice himself.
SORRY, CONTENT ACCESS RESTRICTED
This video contains TV-MA rated content. To access this video, you must register, provide your birthdate, and opt-in to receiving TV-MA rated content
This video is only available in an uncensored version. To access this video, you must register, provide your birth date, and opt-in to receiving uncensored content.
Cancel