Dennis Blair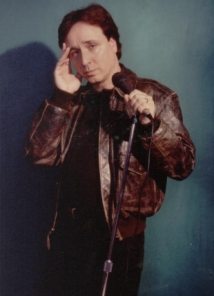 Dennis Blair is a true Renaissance man. He is an accomplished screenwriter, award-winning songwriter and comedic actor. Yet he is probably best known for the caustic observations and musical satires of his live comedy performances.
Early in his career, Rodney Dangerfield made him his protégé, and together they toured the United States and Canada for over three years. Dennis conceived and co-wrote Rodney's hit movie, Easy Money, and also played two cameo roles. He co-wrote and was a featured actor in two Dangerfield specials on ABC, and was creative consultant for the album Rappin' Rodney. The title song (which he co-wrote) was nominated for a Grammy Award.
His post-Rodney career has seen him opening for a multitude of celebrities such as Tom Jones, The Beach Boys, Garry Shandling, Joan Rivers, Gloria Estefan, Jackie Mason, and George Carlin, with whom he toured for over eighteen years. He appeared on The Tonight Show several times. He won an Emmy Award for both writing and voiceovers for the animated film Confessions of a Standup. He has a book, Me First, about his experiences opening for some of the most famous celebrities in show business. He has released two standup comedy CD's, Live Performance Anxiety, and Words, Music and Drunks as well as an album of original songs called I Sleep Naked in the Rain. He has also dabbled in theater, starring in Los Angeles in his self-penned, one-man musical comedy entitled Also Appearing…, about the ups and downs of his career as an opening act. And his new screenplay, The Money Trail, is being optioned by a production company in Hollywood.
Meanwhile, he continues to headline in comedy clubs and at corporate events and open for major celebrities, and also appears from time to time in the road production of The Rat Pack is Back as comedian Joey Bishop.
Movies, TV shows, theaters, comedy clubs, comedy and music albums, a book, a play…has he had his fill? "As long as there are jokes to be written," says Dennis, "and as long as my bank account remains at zero, I'll be around."
SORRY, CONTENT ACCESS RESTRICTED
This video contains TV-MA rated content. To access this video, you must register, provide your birthdate, and opt-in to receiving TV-MA rated content
This video is only available in an uncensored version. To access this video, you must register, provide your birth date, and opt-in to receiving uncensored content.
Cancel