Donald Glover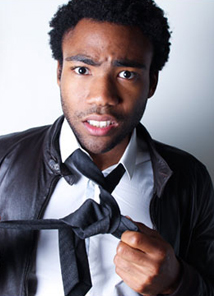 Donald McKinley Glover, born September 25, 1983, is an American actor, writer, comedian, and rapper. Best known for his work in the sketch group Derrick Comedy, he currently stars on the NBC series Community.

Glover is one of the most visible members of the sketch comedy group, Derrick Comedy, along with Dominic Dierkes, Meggie McFadden, DC Pierson, and Dan Eckman. Derrick Comedy's YouTube videos have gained them nationwide attention and have contributed to Glover's recognition, as well as his newfound success in the television business.

Along with the rest of the group, Glover wrote and starred in a feature length film titled Mystery Team, which was released in theaters in 2009.

Glover also makes music under the moniker mcDJ. His music is of the electronic/remix variety and is often made available for free download via his official site. His current album releases include "Love Letter from an Unbreakable Bottle" and "Utterances of the Heart." Glover also goes by many other aliases, such as Childish Gambino, Bambino X, Bam-B, Sir Durton Cloud 9, and Ms. Long-Lady Stanhope.
SORRY, CONTENT ACCESS RESTRICTED
This video contains TV-MA rated content. To access this video, you must register, provide your birthdate, and opt-in to receiving TV-MA rated content
This video is only available in an uncensored version. To access this video, you must register, provide your birth date, and opt-in to receiving uncensored content.
Cancel