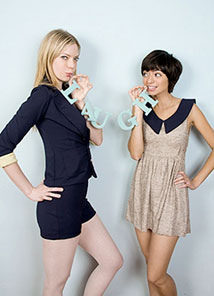 Garfunkel and Oates Biography
Garfunkel and Oates is a Los Angeles based comedy/folk duo made up of actresses Riki Lindhome from The Last House on the Left, Changeling, and My Best Friend's Girl, and Kate Micucci from Scrubs, and When in Rome.

In June 2009, CNN did a piece on the band because their pro-gay marriage song, "Sex with Ducks," was causing debates in the political blogosphere. Their first album, Music Songs, was released on iTunes in August 2009.