Jeffrey Ross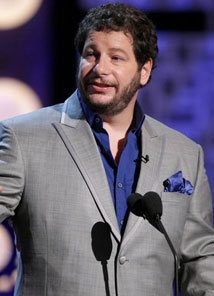 Jeffrey Ross' blistering performances at celebrity roasts honoring mega stars like Joan Rivers, Hugh Hefner, Pamela Anderson, Jerry Stiller, Drew Carey, Shaquille O'Neal, David Hasselhoff, and most recently, Donald Trump inspired New York Magazine to crown him The Meanest Man in Comedy and MTV to introduce him as "a one-man verbal assault unit."

As a stand up comic, Ross has appeared on dozens of television shows including Late Show with David Letterman, The Tonight Show with Jay Leno, Jimmy Kimmel Live!, Late Night with Conan O'Brien, Last Call with Carson Daly, ABC's The View, and HBO's Real Time with Bill Maher. Ross also continues to perform regularly for American men and women in uniform stationed all over the world. As a filmmaker, Ross' directorial debut, Patriot Act: A Jeffrey Ross Home Movie nabbed the Best Feature Film award at the Montreal Just for Laughs Comedy Festival. The film is a funny and poignant documentary that captures Ross' life changing experience entertaining United States troops stationed around Iraq. In addition to Ross' recent dramatic turn on the hit CBS show CSI: Crime Scene Investigation, he has appeared on HBO's Six Feet Under and has also appeared on Showtime's Weeds.

In film, Ross has appeared in the Farrelly brothers' Stuck on You, Paul Weitz's American Dreamz, and the critically acclaimed comedy The Aristocrats. Ross has also written and produced celebrity roasts for Comedy Central, and executive produced and hosted his own highly rated re-imagination of the roasts, MTV Bash: Carson Daly, which featured Madonna, Eminem, 50 Cent, Britney Spears, P. Diddy, Justin Timberlake, Jimmy Kimmel, Sarah Silverman, Jon Stewart, Kid Rock, and Nelly all bashing the guest of honor for charity. Ross has also written for some cool shows including the MTV Video Music Awards for hosts Jamie Foxx and Chris Rock, and the 2000 Academy Awards for host Billy Crystal. He also helped write the first season of The Man Show on Comedy Central and consulted on ABC's Whose Line Is It Anyway? Occasionally, Ross even punches up movies for big shots like the Farrelly brothers and DreamWorks Animation.

You can also check out his CD/DVD titled No Offense: Live from New Jersey now available on Amazon. Ross' first book, I Only Roast the Ones I Love: Busting Balls without Burning Bridges by Simon Spotlight Entertainment, a division of Simon & Schuster, is now available in paperback.
SORRY, CONTENT ACCESS RESTRICTED
This video contains TV-MA rated content. To access this video, you must register, provide your birthdate, and opt-in to receiving TV-MA rated content
This video is only available in an uncensored version. To access this video, you must register, provide your birth date, and opt-in to receiving uncensored content.
Cancel