Jessica Glassberg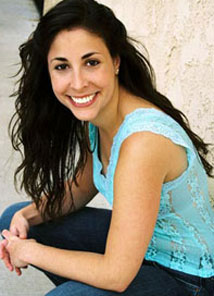 As an only child, parented by two overly protective Jewish parents on Long Island, Jessica Glassberg was always the center of attention.

In her teens, Glassberg headed off to sleep-away camp where everyone received their first kiss and learned all of the words to "Baby Got Back." It was a necessary evil, feel free to test her. While there, Glassberg became the skit person. If there was a talent show, she was the MC, if it was time to parody the counselors, she wrote the script.

It was in college, at Carnegie Mellon University, that Glassberg traded her dreams of being the first female major league baseball player and President of the United States for more realistic goals, like being a sitcom writer and stand up comedian. Her senior thesis was a CMU original sitcom Off Campus, produced and written by Glassberg. This is also the time when Glassberg first tried her hand at stand up comedy and won both the judge's and audience's votes in the CMU gong show, and wrote and performed her acclaimed one-woman show, Gotta Find Me a Future, Move Outta My Way.

After graduation, and her parents having simultaneous heart attacks at the prospect of her leaving, Glassberg headed to Los Angeles.

Audiences from New York to Los Angeles, to Pittsburgh to London have seen Glassberg perform. She was a finalist in the Bud Light Ladies of Laughter competition in Atlantic City, as well as a finalist in both the HaHa Cafe and the Ice House's stand up competitions in Los Angeles. Glassberg's recent sold-out performances of her second one-woman show, Most Likely To...? met with rave reviews and DVDs are available for sale on her Jessicaglassberg.com website. The History of the Joke with Lewis Black on the History Channel featured Glassberg's comedic styles. She has done voice-over work for Game Over on UPN, was a radio guest on Kim Serafin's show on KABC 790 AM, as well as on NobodyListensToUs.com.

Glassberg has contributed to the writing of the 13th and 14th annual Screen Actors Guild Awards, as well as polished the script for Sydney White, starring Amanda Bynes. In addition to writing for the Jerry Lewis MDA Telethon for the past seven years, this past Labor Day, she made her third appearance performing stand up on the nationally syndicated show.
SORRY, CONTENT ACCESS RESTRICTED
This video contains TV-MA rated content. To access this video, you must register, provide your birthdate, and opt-in to receiving TV-MA rated content
This video is only available in an uncensored version. To access this video, you must register, provide your birth date, and opt-in to receiving uncensored content.
Cancel