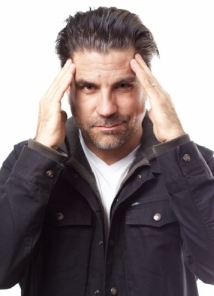 Joe Sib Biography
Joe Sib is a man who wears many hats and doesn't like to sleep. In the early 90's he spent his time touring the country as the front man of the punk band, WAX (ever see the Spike Jonze video with the guy on fire? That was WAX!) After WAX melted Sib went on to start the all star group 22 Jacks (with Adolescents' Steve Soto, Foo Fighters' Chris Shiflett, and Breeders' Jose Medeles). Sib's credits also include co-owning the independent label, Side One Dummy Records (The Gaslight Anthem, Flogging Molly, and Gogol Bordello), and hosting the radio show Complete Control, which airs in seven cities across the country, including Los Angeles' 98.7FM.

In October of 2009 Sib wrote and began performing his one man show California Calling. "California Calling: A Story of Growing Up Punk Rock is a 70-minute 'broken word' roller coaster ride delivered by a man with enough energy and passion to power an entire city," Los Angeles Times said of the show. "Sib's boundless earnestness about the identity-shaping possibility of music charged his part-memoir, part-comedy, part- backyard-barbecue-yarn about what happens when the old days never quite go away...The abiding take from California Calling is that the rush of youthful discovery doesn't have to dissipate with adult life."

When not on the road doing California Calling you can catch Sib performing his unique take on stand up comedy all over the universe. Lastly, Sib host's 98.7FM's The Bare Bones Show every third Thursday of the month at the Hollywood Laugh Factory at 10pm. The Bare Bones Show is night of comics, story tellers, magicians, and even music played acoustically by some of the biggest names out there. Some of the comics who have stopped by to be a part of The Bare Bones Show in the last few months are Aziz Ansari, Bobby Lee, Chris Delia, and Iliza Shlesinger. You never know what is going to happen at a Bare Bones Show or who is going to show up and get on stage. If you are looking for a great night this is the show for you! If you like what Joe Sib is all about, check out 5 stories he tells, from meeting Joe Strummer of The Clash to freaking out on killer weed: joesib.bandcamp.com.