Joe Sib - Daughter's Phone
Joe Sib gets every text message from his daughter's phone... just like the NSA.
Joe Sib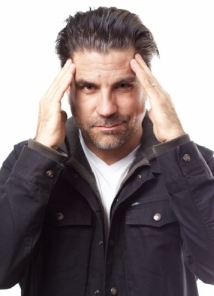 Joe Sib, founder and co-conspirator of Side One Dummy Records for over twenty years, has continued to climb up the ranks of the comedy scene. Joe released his first comedy record, Joe Sib Nowhere Near the Top, in April 2017. From the 1980s punk scene to millennium parent, Joe's comedy takes you on a manic ride from growing up in the era of "safety last" and into the present, as he tries to helicopter parent without a license. In addition to performing stand-up at comedy clubs around the country, he is the co-host of the popular parenting podcast, Rad Parenting, with advice expert Anea Bogue. The duo discuss the unpredictable and often terrifying role of modern parenting with a dose of self-deprecating humor. This successful combination has earned them a top spot on the ITunes charts. Other credits include: the nationally acclaimed one-man show California Calling: Growing up Punk, appearances at the San Francisco Sketchfest, Bridgetown Comedy Festival, Fun Fun Fun Fest, FYF Fest, Coming to the Stage, Live from Gotham and Laughs USA on Sirius XM radio. When he's not lamenting his lost youth or fatherhood in clubs, he regularly hosts the Complete Control radio show on 98.7FM in Los Angeles and nationally select cities.
SORRY, CONTENT ACCESS RESTRICTED
This video contains TV-MA rated content. To access this video, you must register, provide your birthdate, and opt-in to receiving TV-MA rated content
This video is only available in an uncensored version. To access this video, you must register, provide your birth date, and opt-in to receiving uncensored content.
Cancel