Jon Reep - Bless His Heart
"Bless his heart" and "God forbib"
Jon Reep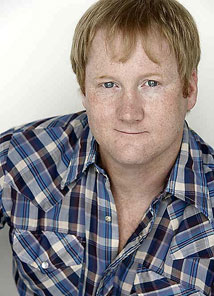 Hi, I'm Jon Reep. I was born and raised in Hickory, North Carolina, which was the furniture capital of the world for a while. It's also home to Winston Cup champion Dale Jarrett and the pig from Green Acres, Eva Gabor, just kidding, she's from Hungary.

I graduated from North Carolina State University in 1997 with a Bachelor of Arts degree in theatre, ass communication, and public and personal communication. A year later, I hit the road as a full-time traveling comic, and that was the end of my life as a normal human being. In 2000, I moved to Los Angeles to try my hand at an acting career.

As an actor, I've played the pot smoking farmer Raymus from the movie Harold & Kumar Escape from Guantanamo Bay, and the dimwitted cop, Gerald Bob, from the ABC sitcom Rodney. You probably know me from Dodge truck's popular ad campaign as the Hemi guy. I'm known to millions as the redheaded hillbilly in the Dodge Ram commercials who leans out of a beat-up car and utters the now famous line, "That thing got a Hemi?"

Before all that, I was already one of the hardest working comics in America, selling out clubs and getting standing ovations at college after college across the country. As a comedian, you may have seen me on season five of Last Comic Standing on NBC. I was the winner that year, thank you very much. Maybe you've seen me on Comedy Central's Premium Blend or my half-hour Comedy Central Presents special. Possibly, you've seen me on TBS' Pit Stop Comedy, NBC's Late Friday, or CMT's Comedy Club and Comedy Stage.

I have performed at the Montreal Just for Laughs Comedy Festival in 1999 and 2004. I've also performed in Las Vegas' The Comedy Festival in 2005 and the Bonnaroo Music and Arts Festival in 2006. Most recently, I headlined a club during the Vancouver Comedy Festival in 2009. My show is supersonic energy filled with nonstop characters and super clever writing. I'm on the road all the time, so check out my tour schedule to see if I'm at a venue near you.
SORRY, CONTENT ACCESS RESTRICTED
This video contains TV-MA rated content. To access this video, you must register, provide your birthdate, and opt-in to receiving TV-MA rated content
This video is only available in an uncensored version. To access this video, you must register, provide your birth date, and opt-in to receiving uncensored content.
Cancel