Jordan Rubin - British
Can I bum a homosexual?
Jordan Rubin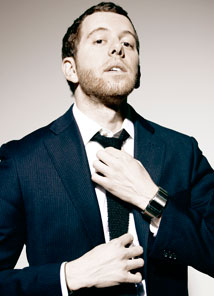 Jordan Rubin has a long list of television credits, including Late Night with Conan O'Brien, Last Call with Carson Daly, and The Late Late Show with Craig Ferguson. He was a writer and prank caller on the television show Crank Yankers. He has performed at HBO's Aspen Rooftop Comedy Festival, the Montreal Just for Laughs Comedy Festival, and most recently, at The Comedy Festival in Las Vegas.

This year, Rubin has his own half-hour stand up special currently airing on Comedy Central. He appeared in the Zucker Brothers' film Superhero Movie and co-wrote a film for New Line Cinema with Jim Abrahams and Phil Dornfeld. Along with fellow comedian Jim Gaffigan, he created and stars in a web series called Our Massive Planet that runs on TBS.com.

Rubin was a staff writer on The Man Show, Crank Yankers, and for the past two years, he was the head writer of the MTV Movie Awards.
SORRY, CONTENT ACCESS RESTRICTED
This video contains TV-MA rated content. To access this video, you must register, provide your birthdate, and opt-in to receiving TV-MA rated content
This video is only available in an uncensored version. To access this video, you must register, provide your birth date, and opt-in to receiving uncensored content.
Cancel