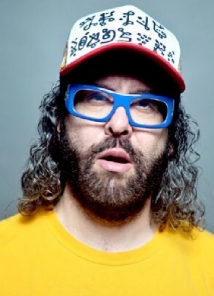 Judah Friedlander Biography
Judah Friedlander is a regular cast member on the new Thursday night NBC hit comedy 30 Rock, co-starring with Tina Fey and Alec Baldwin.

Friedlander has been in over 20 movies, including Meet the Parents, Zoolander, Date Movie, Wet Hot American Summer, Feast, Showtime, Duane Hopwood, and American Splendor, for which he was nominated for Best Supporting Actor at the Independent Spirit Awards.

Friedlander's countless television appearances include VH1's Best Week Ever, HBO's Curb Your Enthusiasm, MTV's Wonder Showzen, The Tonight Show with Jay Leno, other late night talk shows, and Comedy Central shows. Friedlander also starred as the Hug Guy in the classic Dave Matthews Band music video "Everyday."

With 18 years of stand up experience, Friedlander is a comic's comic and a crowd pleaser. In his stand up act, Friedlander is the world champion. He's a great athlete, gets tons of chicks, and is a role model to children. He's better than you at everything.