Judy Tenuta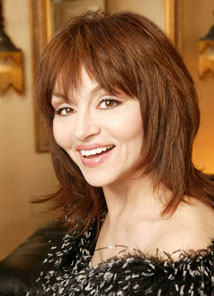 Judy Tenuta is the most famous person that ever lived. If you don't believe it just ask her! The stand up comic/actress who describes herself as a "multimedia Bondage Goddess" and "the Aphrodite of the Accordion," is actually a caring nurturer who wakes up at 8 PM to verbally abuse countless herds of mortal swine, her audience, and converts them to her signature religion, Judyism.

Her fans ranging from fetuses to fossils, gays to geishas, all beg to chew her gum and kiss her feet because she is the only fun feminist who preaches that all women should be worshipped as "Love Goddesses," and all men have an equal opportunity to become her furniture. It could happen!

Tenuta hit the stage in long flowing goddess gowns, and took a bite out of the Big Apple. She was the very first stand up to win Best Female Comedian at the American Comedy Awards. That same year, she became the national spokesperson for a series of Diet Dr. Pepper commercials where she proclaimed, "You can't get a body like mine in a bottle unless you push real hard."

Tenuta has starred in her own HBO, Showtime, and Lifetime specials, and has been seen on every major talk show. Most recently, she was a special correspondent for American Journal and Entertainment Tonight, where she conducted interviews with such celebrated public figures as Donald Trump and Reverend Jesse Jackson.

Tenuta has also had two smash comedy CDs and has been nominated twice for Grammy Awards for her Attention Butt Pirates and Lesbetarians, and In Goddess We Trust. She is also the author of The Power of Judyism published by HarperCollins.

Tenuta has produced and starred in her own feature film, Desperation Boulevard, a romantic comedy about a former child star who stops at nothing to make a comeback. This hilarious but touching film co-stars Academy Award nominated actor Michael Lerner, Erin Moran, Will Shriner, and Weird Al Yankovic.

Some of her recent roles include an ex-showgirl turned wedding chaplain on General Hospital, a self-absorbed group therapist in the indie film 10 Attitudes, and a small but pivotal role as the genteel trailer trash cat lady in the upcoming Hilary Duff film Material Girls.
SORRY, CONTENT ACCESS RESTRICTED
This video contains TV-MA rated content. To access this video, you must register, provide your birthdate, and opt-in to receiving TV-MA rated content
This video is only available in an uncensored version. To access this video, you must register, provide your birth date, and opt-in to receiving uncensored content.
Cancel