Kelsey Cook - Death By Auto Correct
Auto correct has caused a little trouble for Kelsey Cook...
Kelsey Cook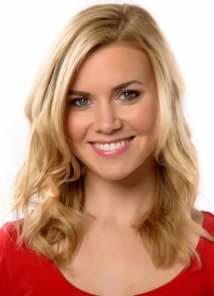 Kelsey Cook's quick wit and relatable observations create an easy connection with her audiences. She's the daughter of an International Yo-Yo Champion and a Professional Foosball player, which made for a humor-filled life at a young age.
Kelsey moved to Los Angeles from Seattle and has spent the last year touring 50+ dates with Jim Norton. She recently started splitting her time with New York, where she is a paid regular at The Comedy Cellar, The Stand, Gotham Comedy Club and New York Comedy Club. She regularly appears as a guest on "Opie and Jimmy" and "The Sam Roberts Show" on Sirius.
Kelsey has a diverse skill set as a stand up comedian, beauty blogger and host. Her podcast, Cook'd, is at 130+ episodes and has featured guests like: Jim Norton, Bob Saget, Roy Wood Jr., Rory Scovel and many more. When Kelsey isn't doing stand up, she is a probably at a local bar, hustling people who don't know she is a World Champion foosball player.
Kelsey's television appearances include AXS TV Presents "Gotham Comedy Live" (2016), "Laughs" on FOX, "Uproarious" on FUSE (2016) and "Greatest Party Story Ever" on MTV2 (2016).
SORRY, CONTENT ACCESS RESTRICTED
This video contains TV-MA rated content. To access this video, you must register, provide your birthdate, and opt-in to receiving TV-MA rated content
This video is only available in an uncensored version. To access this video, you must register, provide your birth date, and opt-in to receiving uncensored content.
Cancel