Krystyna Hutchinson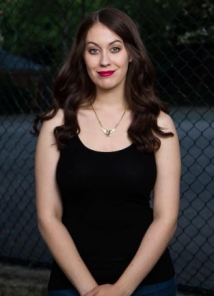 Krystyna Hutchinson is a stand-up comedian, writer and actress originally from Doylestown, Pennsylvania. Her glass (of whiskey) is always half full, which confuses a lot of people after finding out she does comedy. She is a regular in the New York City stand-up scene and has performed in clubs, colleges, bars, basements, laundromats and sushi restaurants all over the country.
Krystyna is half of the comedy duo, Sorry About Last Night, with fellow stand-up, Corinne Fisher. Together, they have produced a myriad of popular stand-up shows in New York City, written and starred in a two woman self-titled show at The Upright Citizens Brigade Theater, created the vlog series Girls on GIRLS and currently host one of iTune's top podcasts, Guys We Fucked: The Anti-Slut Shaming Podcast, which has been featured in publications such as The Daily Beast, The Huffington Post, Shape Magazine, The Daily Dot, Elle Magazine, Salon.com and more!
Even though it happened when she was a senior in high school, she feels it's pertinent to let you know she came in 1st place at the Philadelphia Shakespeare Competition. Not 2nd, not 3rd. But 1st motherfucking place.
SORRY, CONTENT ACCESS RESTRICTED
This video contains TV-MA rated content. To access this video, you must register, provide your birthdate, and opt-in to receiving TV-MA rated content
This video is only available in an uncensored version. To access this video, you must register, provide your birth date, and opt-in to receiving uncensored content.
Cancel