Larry Omaha - Vegetarians
Larry Omaha wants you to stop mad doggin his steak at the Laugh Factory in Hollywood, CA.
Larry Omaha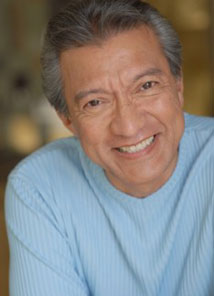 Hold on to your seats everybody! Larry Omaha is coming to a stage near you! He's packing an arsenal of jokes to blast at you fast and furious. The Yaqui Zapotec native left his career as a government investigator to become a stand up comic and audiences are glad he did. You'll howl as he turns Indian stereotypes upside down and inside out. His indigenous humor will leave you dizzy and weak.

It's been reported that some caucasians laughed so hard and so long at Omaha's jokes, they willingly returned land their ancestors had stolen long ago.

Omaha's insightful point of view on multiethnic America has garnered him numerous television appearances and places him in great demand on the corporate circuit. His comical stories about his youth are hailed by the Los Angeles Times as "refreshing, funny, and universal." Omaha's sidesplitting jabs at the hypocrisy of American society inspired the Las Vegas Sun to label him, "A very hip comic for the new millennium."

Omaha has been seen on Comedy Central's hit show Mind of Mencia, NBC's Comics Unleashed, BET's Comicview, Loco Comedy Jam, and HBO's The Erotic Traveler.
Larry Omaha COMEDY VIDEOS
SORRY, CONTENT ACCESS RESTRICTED
This video contains TV-MA rated content. To access this video, you must register, provide your birthdate, and opt-in to receiving TV-MA rated content
This video is only available in an uncensored version. To access this video, you must register, provide your birth date, and opt-in to receiving uncensored content.
Cancel