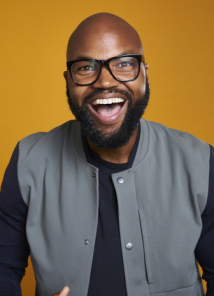 Leo Flowers Biography
A Chicago native, Leo Flowers quickly worked his way into major comedy clubs and colleges across the country. His delivery has been described as "smooth and deliberate," making observations bordering on genius and insanity. No two shows are ever alike, as he's always attacking the issues of the day and revealing personal anecdotes. Infusing stand up with storytelling, Flowers captivates audiences of all demographics.

Recently, Flowers appeared on Comics Unleashed with Byron Allen. He won Uncle Clyde's Comedy Contest, was a runner-up in the San Francisco International Comedy Competition, and was a finalist in the 2009 Stand Up for Diversity competition. He is a regular at the Laugh Factory, has toured on the Shaved and Depraved Comedy Tour, and has co-hosted MTV's Sports Blender. He cut his acting chops in the webisode Sorority Forever. He has also opened for such stars as Bill Burr, Mo'Nique, and Mitch Fatel. Be sure to catch this rising star at a comedy club or movie theater near you.