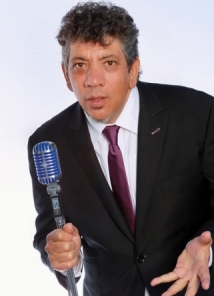 Lou Dinos Biography
On March 15, Lou Dinos celebrated his 28th year in the business. It all started in Toronto at a little club called Yuk Yuks, the only comedy club in the country, which at the time stayed open until 4 AM and did not serve drinks. He did five minutes and was scared to death, but he killed it. Dinos was 21.

After conquering the Great White North, Dinos decided to pack his bags and head for the big city. In Los Angeles, he was offered a role in Quicksilver with Kevin Bacon almost immediately. He auditioned at the Comedy Store and within a month, he was a regular there. His name was painted on the wall in the corner that faces Sunset Boulevard. Dinos was 26.

Soon after that, he hooked up with his childhood friend, Howie Mandel. For five years, they toured theaters across the United States and Canada together. Their itinerary included stops at Radio City Music Hall, the Fox Theatre in Atlanta, Universal Amphitheater in Los Angeles, the Fox in San Francisco, Ceasar's Tahoe in Lake Tahoe, and the Sands Casino Hotel in Atlantic City. In October of '87, he played Carnegie Hall for the first time. Dinos was 30.

After being with Mandel for so long, Dinos decided to go out on his own. His solo tour started out as a one year venture. He headlined clubs such as Goodnight's Comedy Club in Raleigh, the Funny Bone Comedy Club and Restaurant in Columbus, the Punchline in Atlanta, and the Comedy Works in Montreal. One year stretched into two and the tour continued. After four years of traveling, he decided to move again, this time to Atlanta. Dinos was 35.

News of the Olympics coming to town compelled Dinos to try out for the synchronized swimming team, representing the Canadians. When he failed to make the team, Dinos, blaming the city of Atlanta, packed his bags and headed West, again.

It's 2008 and on any given weekend, you can catch Dinos at any one of a number of cities in America. The rest of the time, he divides equally between his home in Los Angeles, where he enjoys reading the classics and taking in odd ironing and mending jobs, and his summer retreat in the Congo, where his work with the anthropoid apes continues to make great scientific strides.