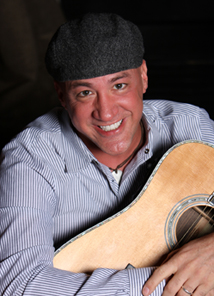 Mark Eddie Biography
Mark Eddie is a Los Angeles based comic/singer/songwriter who blends rock music and stand up comedy.

A five time Campus Activities Magazine Entertainer of the Year nominee, Eddie's performances are legendary on YouTube, XM Radio, Sirius XM Radio, All Comedy Radio, The Bob & Tom Show, Playboy Radio, Dr. Demento, and the Five O'Clock Funnies. He is one of Campus Activities Magazine's top picks for Campus Hot Comedy '09.

With an acoustic guitar, a powerful voice, and a lovable spirit, Eddie tours the United States and abroad performing comedy theaters, colleges, and major corporate events. In addition, Eddie's signature voice is featured on network promos and jingles for Nickelodeon, TV Land, NBC, and more.

After touring with rock bands and being singled out in Billboard Magazine for his "resilient voice and well-written, well-sung pop anthems," Eddie decided to bring his guitar riffs and musician's point of view to comedy stages.

To date, he's released three comedy CDs and is known far and wide for rapid fire rock references and showstopping tributes to Dave Matthews, Al Green, Neil Diamond, Van Morrison, Pearl Jam, John Mayer, and many others.

Founding member of The Doors, Robby Krieger, calls his show "a rock concert with nonstop laughter." Legendary DJ Geno Michelini says, he's a "comic version of Bruce Springsteen who plays a mean guitar and delivers dead-on impressions!" Long range plans for this charismatic artist include writing, voice acting, animated film projects, film shorts, and ultimately, the development of his very own television series.