Mark Little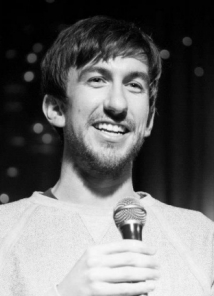 There are many Mark Littles in the world. This one is the best.
The comedian, actor and writer did improv in Vancouver for five years before moving to Halifax to further his comedy career (as one does). He became fluent in stand-up and sketch comedy and, in 2006, he was voted Halifax's Best Comic. He would win that award four years running.
In 2009, Mark won Canada's top two stand-up comedy competitions: the Just For Laughs Homegrown Competition and the Yuk Yuk's Great Canadian Laugh Off, which came with a $25,000 grand prize. Mark was pleased.
Mark is one of the founding members of the sketch comedy group Picnicface, whose television show (Picnicface) aired on The Comedy Network in 2012. Picnicface also released a book in 2011 (Picnicface's Canada, HarperCollins), and a movie, Roller Town, which Mark co-wrote and starred in, distributed by D Films. Roller Town opened the 2011 Atlantic Film Festival and had its U.S. premiere at the 2012 Slamdance Festival in Utah. It also screened at the Museum of Modern Art in New York as part of the 2012 Canadian Front Film Festival in 2012. It is currently available on American Netflix.
Mark currently lives in Toronto. He plays Simon Hunt in the CBC sitcom Mr. D (Wednesdays at 8 pm). He has written for This Hour Has 22 Minutes and starred in one episode of Jason Priestly's HBO series Call Me Fitz. He's opened for Paul F. Tompkins in both Canada and the U.S. and he's appeared in the Montreal Just For Laughs Festival the past four years, filming three gala performances in the process. Mark recorded a Comedy Now special in 2011.
As a stand-up and sketch performer, Mark has appeared at the San Francisco Sketchfest, the UCB in LA and NYC, the Hollywood Improv, and the Gotham in New York. He's a favourite of the Halifax Comedy Festival and a regular contributor to The Debaters on CBC Radio/TV. He is also one half of the team responsible for the award-winning web series Dad Drives. (He plays the dad.)
Can the other Mark Littles lay claim to these exact accomplishments? They cannot.
SORRY, CONTENT ACCESS RESTRICTED
This video contains TV-MA rated content. To access this video, you must register, provide your birthdate, and opt-in to receiving TV-MA rated content
This video is only available in an uncensored version. To access this video, you must register, provide your birth date, and opt-in to receiving uncensored content.
Cancel