Matty Goldberg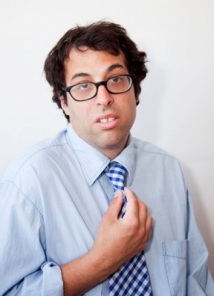 After recovering from a brain tumor and failing out of college, I began my comedy career in 2001. After many cheers and jeers in 2006 I made his television standup debut on BET's 106 and Park. You read that right, it's not a mistake, I was featured on BET. For those of you that have been living in a cave, BET stands for BLACK ENTERTAINMENT CHANEL. No, I am not black but I have tons of soul and jokes for days.
In 2008, I starred in an online advertising campaign for Converse called 'Out of Your League Guy,' in which I inspired kids to go for their dreams while at the same time creeping out girls all over the globe. In 2009, I was featured on a highly touted, very visible (like my ugly mug was plastered on a billboard in front of an NBA arena) and extremely viral advertising campaign with NBA superstar Dwyane Wade. Here I morphed myself into playing an arrogant billionaire who turned his focus onto Mr. Wade in the pursuit of looking to show the world he could beat him in a game of "One on One, first to 10, gotta win by two." The campaign culminated in Dwayne Wade and I locking horns at an undisclosed gym in Miami. The game was very close with D-Wade and I going back and forth until I literally (Charles Charles McGalls) took my ball and ran home just as Wade had eeked out a 9-0 advantage. The outcome of the game is still to be decided…
When I am not acting, I am performing standup everywhere and anywhere people want to laugh. I recently move to the from my home town of New York to the warm weathed, palm treed and silicone soaked city of Los Angeles.
In short, I'm funny, I'm sexy and I'm taking over the industry one laugh at a time.
SORRY, CONTENT ACCESS RESTRICTED
This video contains TV-MA rated content. To access this video, you must register, provide your birthdate, and opt-in to receiving TV-MA rated content
This video is only available in an uncensored version. To access this video, you must register, provide your birth date, and opt-in to receiving uncensored content.
Cancel