Mona Shaikh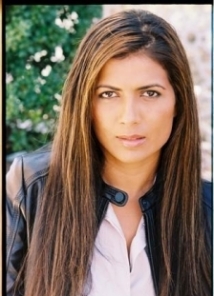 Mona Shaikh, a tomboy who grew up with four older brothers and as the only girl in the family, knew her passion and purpose in life at the age of 8 after seeing her favorite Bollywood actress, Madhuri Dixit, entertaining her audience with her wit, charm and beauty. However her conservative Pakistani Muslim upbringing would prevent her dream from becoming a reality for another 10 years. At the age of 18, Mona rebelled and found her freedom when she moved out of her family home in New Jersey and moved to the Big Apple to pursue her lifelong dream.
Being a New York actor, she discovered the wonders of theatre and loved being a stage actress. After landing numerous stage gigs she was no longer limited to theatre but ended up becoming the global face of Kodak, a pharmacist for Walmart, an Indian mom for Cablevision and a businesswoman for Deutsche Bank, in addition to acting in various independent feature and short films. Not limiting herself to acting, Mona wrote in her spare time to perfect her craft only to discover that comedy came naturally to her. A friend suggested that she try her hand at stand up comedy. She performed her first open mic at Comix comedy club in NYC. She not only fell in love with stand up there and then – she also brought the house down which marked the beginning of her stand up career.
After much encouragement by her friends and manager she moved to Los Angeles in January of 2011. Since being in LA she has appeared on 90.7 KPFK as a female Muslim comic sounding off on the current Libya/Syria situation and has been performing stand up all over town at the Comedy Store, Flappers Comedy Club and the Laugh Factory to name a few. With half her life spent in a prominent conservative Muslim household, and the second half lived as an independent woman immersed in American entertainment and culture, Mona has a unique perspective on the contrast and conflicts between both worlds. Her sense of humor integrates her unique perspective on religion, sex, politics and her personal life experiences into a blend that is all her own.
SORRY, CONTENT ACCESS RESTRICTED
This video contains TV-MA rated content. To access this video, you must register, provide your birthdate, and opt-in to receiving TV-MA rated content
This video is only available in an uncensored version. To access this video, you must register, provide your birth date, and opt-in to receiving uncensored content.
Cancel