Murray SawChuck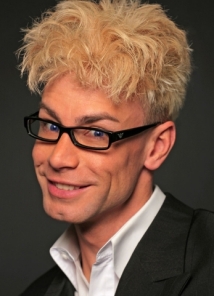 MURRAY The Magician with over 1.3 Million Subscribers and over 1 BILLION online views as a YouTube Sensation, a regular on History Channel's Pawn Stars as their Magic Expert for his 10 season, and on CW's Masters of Illusion for his 6th season. He's been on over 21 Reality Shows and a finalist on America's Got Talent, and currently performing 6 nights a week on the Las Vegas Strip as the resident show at The Tropicana Hotel – Laugh Factory. He will also be guest starting on NetFlix's Original show GLOW Season 3.
Also known as Murray SawChuck is the king of Reality TV and one of the most sought after VIRAL MAGICIANS. Internationally acclaimed award winning magician with over 30 awards to his name, Murray SawChuck dazzled the judges and 22 million people as a finalist on "America's Got Talent" performing the largest illusion to date on their show where he made a 1918 Steam Train disappear in seconds along with other episodes, producing a Ferrari from thin air and transforming a girl locked in a cage into a 450 pound tiger, all of these illusions took place before a "live" and national "TV" audience, and brought standing ovations from the judges.
Murray also uploads 1 – 3 videos a week on his ever growing YouTube channel 'MagicMurray' with over 1 a billion views showcasing pranks, magic and teaching tricks!
He has guest-starred on over 18 episodes of Hallmarks "Home & Family", the Comedy Central TV series "Reno 911" and NBC-TV's "Last Comic Standing, TLC's '4 Houses' , 'What Not To Wear', Discovery's 'Battle of The Strand', Gordon Ramsey's Master Chef, Discovery's 'Top Gear', ABC's Happily Ever After, Access Hollywood, Entertainment Tonight and many more.
Murray is mostly recognized as the Magic Expert on 'Pawn Stars' which is currently viewed in over 160 countries, the YouTube Prankster with over 1 Billion views, from LIVE shows 6 days a week at the Tropicana Hotel & Casino in Las Vegas, or from his numerous charities he donates his time to, two which are very close to his heart the USO veterans and our active military as well as rescuing animals.
SORRY, CONTENT ACCESS RESTRICTED
This video contains TV-MA rated content. To access this video, you must register, provide your birthdate, and opt-in to receiving TV-MA rated content
This video is only available in an uncensored version. To access this video, you must register, provide your birth date, and opt-in to receiving uncensored content.
Cancel