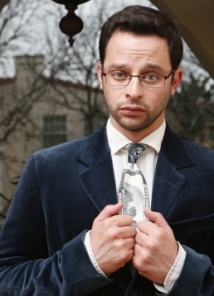 Nick Kroll Biography
Nick Kroll is a film/television actor, writer, published author, and a stand up and sketch comedian. He has starred in ABC's Oscar Award winning program Cavemen, CBS' Worst Week, VH1's Best Week Ever with Paul F. Tompkins, Fox's Sit Down Shut Up, and a bunch of other stuff, too.

Kroll can be seen and heard as the voice of Stu on the HBO animated series The Life & Times of Tim. He plays El Chupacabra, Reno's only Latin radio show DJ, on Reno 911! He has contributed writing to Chappelle's Show, The Life & Times of Tim, and MTV's Human Giant.

Kroll can be seen in I Love You, Man and the upcoming films Date Night with Tina Fey and Steve Carell, and Get Him to the Greek with Jonah Hill and Russell Brand. Kroll is the co-author of the hit coffee table book Bar Mitzvah Disco: The Music May Have Stopped, but the Party's Never Over. As a stand up, Kroll has appeared on Jimmy Kimmel Live!, the upcoming season of Live at Gotham, and regularly tours colleges and clubs around the country. His hobbies include eating fried chicken and doing bits.