Paul Mooney - Obama & Bush
Paul Mooney discusses the difference between Barack Obama and George Bush at the Laugh Factory in Hollywood, CA.
Paul Mooney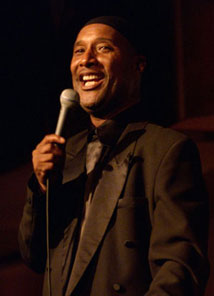 Paul Mooney was born in Louisiana and later grew up in Oakland, California. He always found himself writing comedy and telling jokes, which would later help Mooney land his first professional work as a writer for Richard Pryor. Mooney wrote some of Pryor's routines for his appearance on Saturday Night Live, co-wrote his material for Richard Pryor Live on the Sunset Strip, Bicentennial N*gger, ...Is It Something I Said? album, and Pryor's film Jo Jo Dancer, Your Life Is Calling.

As the head writer for The Richard Pryor Show, he gave many young stand up comics such as Robin Williams, Sandra Bernhard, Marsha Warfield, John Witherspoon, and Tim Reid their first break into show business.
Paul Mooney COMEDY VIDEOS
SORRY, CONTENT ACCESS RESTRICTED
This video contains TV-MA rated content. To access this video, you must register, provide your birthdate, and opt-in to receiving TV-MA rated content
This video is only available in an uncensored version. To access this video, you must register, provide your birth date, and opt-in to receiving uncensored content.
Cancel