Poppy Champlin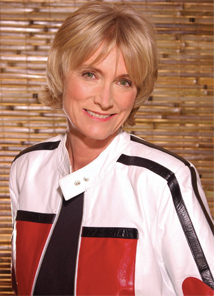 There's just something about Poppy Champlin. She walks on stage looking urban cool and she begins rolling out the jokes. She starts slow, sure, moves on to staccato, and hits on all cylinders. She spits out jokes, quips, songs, impressions, interactions, and bird calls. With deep resources to draw from, all of Champlin's shows can be described as spin art, "No two alike." Champlin is crackerjack at the craft of improvisation. Throw anything at her and watch as she magically turns it into comedic fodder. Having graduated from the University of Rhode Island with a degree in theatre, she then went on to the famed Chicago Second City Training Center.

Champlin is one of the quickest witted comedians working either coast today. She has a wild and roaming spontaneity, which makes each show actually feel like one of a kind. She is a powerful performer who can glide between practiced patter and off the cuff insightful improvisation. Champlin's experience with classic stand up and improvisation gives her a double-barreled flexibility that works particularly well with her subjects of choice. Besides Champlin's deep comedic chops, she actually has a seriously good voice that she puts to use during her performance, making sure to end every show on a good note.

"Champlin was a freakin' ball of comedic thunder," says one fan.

Her stand up pedigree is flawless, from her latest Showtime special Pride: The Gay & Lesbian Comedy Slam and Logo special One Night Stand Up, to The Oprah Winfrey Show, and a featured story on Entertainment Tonight. She was a winner on The Joan Rivers Show and a panel guest on Comics Unleashed with Byron Allen. She is also a favorite on Atlantis and Olivia Cruises.

Champlin has opened for such comics as Ray Romano, Denis Leary, Bill Maher, Bill Hicks, and Rosie O'Donnell. Her club appearances are many. The Chicago Sun-Times calls Champlin, "Blisteringly funny."

When Champlin hit tinsel town, she continued to perform stand up as well as study acting at Larry Moss Studios and has since put up her critically acclaimed one-woman show, A Chocolate Sandwich. She was a staff writer for Fox's Show Me the Funny. She wrote, starred in, and produced her character driven comedy pilot called News You Can't Use, think Tracy Ullman takes on the news. Champlin currently can be seen performing her comedy in the HBO documentary All Aboard! Rosie's Family Cruise and traveling around the country producing her own show called, the Queer Queens of Qomedy, now in its fifth year.

Ever increasing her visibility, she performed for over 25,000 people in the closing ceremonies of the Gay Games in Chicago. She has performed for troops in both Japan and Korea. She was invited to perform in South Africa at the Cape Town Comedy Festival.

Champlin tackles tough subjects with ease. In this comedian's hands we can laugh at life's most formidable perils, and laughter that ravages fear is the best kind of all.
SORRY, CONTENT ACCESS RESTRICTED
This video contains TV-MA rated content. To access this video, you must register, provide your birthdate, and opt-in to receiving TV-MA rated content
This video is only available in an uncensored version. To access this video, you must register, provide your birth date, and opt-in to receiving uncensored content.
Cancel