Raj Sharma - The Amish Mafia
Raj Sharma has a hit placed on him by Pennsylvania's deadliest criminal organization.
Raj Sharma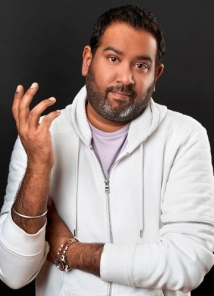 Raj Sharma started his career in Dallas, Texas and soon began performing all over the country. He was the co-founder of Indians at The Improv, a wildcard finalist for HBO's The Lucky 21 and is currently touring with Ahmed Ahmed's Next Generation of Evil Comedy Tour. His daily observations, childhood stories and lightning fast crowd work make him a must see for every audience. Tom Rhodes calls him "head-crushingly funny." Bryan Callen says, "He's funny in 3 languages: English, Punjabi and the Future."
Raj Sharma began his comedy career in 2002 and has never looked back. A chance trip to The Improv changed his life forever. Born and raised in Texas, and brought up in a traditional Hindu household, gave him all the influence he needed.
He is an original member of The Gurus of Comedy, Pundits with Punchlines, and The United Colors of Comedy. Eight years in and Raj has worked with some of the best comics in the business like: Tom Rhodes, Carl LaBove, Pablo Francisco, Frank Caliendo, Brian Regan, Bruce Bruce, and many more.
His passion for comedy (and a lot of luck) has taken him across the country and across the globe, working in clubs and numerous colleges and corporate events.
Raj's style of humor can be enjoyed by anyone of any age or background. Hilarious everyday observations, combined with his upbringing and sensational crowd work, is what you can expect at every show.
SORRY, CONTENT ACCESS RESTRICTED
This video contains TV-MA rated content. To access this video, you must register, provide your birthdate, and opt-in to receiving TV-MA rated content
This video is only available in an uncensored version. To access this video, you must register, provide your birth date, and opt-in to receiving uncensored content.
Cancel