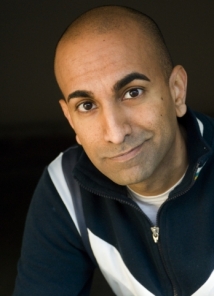 Rajiv Satyal Biography
Rajiv Satyal is the fun-size Indian comedian from Ohio whose witty, universal, and TV-clean act resonates around the world by covering everything from racial issues to soap bottles to his favorite topic – himself. This former engineer and P&G marketer has repeatedly opened for Dave Chappelle, Kevin Nealon, Tim Allen, and also for Russell Peters in sold-out theaters across the U.S.A. He has performed everywhere from Boston to Bangalore and has been featured on NPR and in The Wall Street Journal, The Huffington Post, and The Los Angeles Times.
This LA-based pocket pundit challenges people to see a new point-of-view. Most of all, he talks about what it's like to be Rajiv. We all have some Rajiv in us, even if we don't want to admit it. You can find Rajiv regularly performing at the Laugh Factory and Improvs in Los Angeles, acting in commercials, doing improv, on TV, on XM/Sirius Satellite & Pandora Radio, tweeting on www.twitter.com/funnyindian, posting on www.Facebook.com/funnyindian, and on www.funnyindian.com, where you can view clips, read his blog, and subscribe to his rants and podcasts.