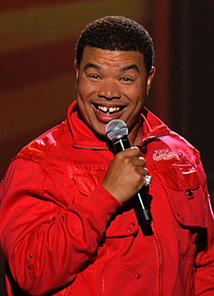 Red Grant Biography
Red Grant is doing things that other comedians have not done since Robert Townsend. Grant has been one of the top comedians on television over the years, gaining millions of fans of all races. Some of his most recent accomplishments on television are Comedy Central Presents Red Grant, Katt Williams: American Hustle which he starred in with Katt Williams, Martin Lawrence's 1st Amendment Stand Up, Comedy Central's hilarious reality show Reality Bites Back, and his new Showtime half-hour special that is due out in the summer.

Not only is Grant a star in the comedy world, he's also making a name for himself as a film and television producer, creating and producing seven shows and pilots for the Viacom Network. Four of these shows have achieved Nelson Ratings of .90, and the other three have achieved ratings of over .60-.80, reaching more than six million people in the world. Grant does all this through his film company Movieos, where he has partnered up with companies such as Lions Gate Entertainment and Artisan Entertainment. He has sold over 500,000 DVDs around the world.

Grant has acted in 11 films and is working on his new film Mr. Break Up which he wrote. Grant has partnered up with the writers and producers of Trading Places to film this project in New Orleans in March. Grant is a real lovable guy and he has everyone asking, "What's all the talk about Red Grant?"