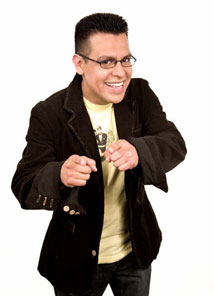 Rene Garcia Biography
If you ask anyone who has seen Rene Garcia's show, they would tell you it's great and hilarious! His energy and animation, mixed in with funny pantomimes, leave audiences laughing His personal life experiences help create a fantastic act. He quickly landed Miller Lite commercials and has been featured on MTV Tr3s and a Showtime special in 2009.

When he first started his comedy career in Houston, Texas, Garcia realized that performing in front of and making people laugh came naturally to him. You quickly see this as he takes the stage. Now, this young man is striving to take his career to new heights and higher levels.

What makes Garcia's show so unique is the fact that his comedy is not just for Latino audiences. He hits subjects that any race can relate to. His style has labeled him as the Latin Jerry Lewis. "Just to be mentioned in the same sentence as a legend like Lewis is a great honor," says Garcia. He has worked with acts such as Tommy Davidson, Ron White from the Blue Collar Comedy Tour, Katt Williams, and Bill Bellamy.