Roberto Flores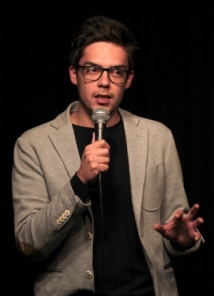 Being a huge comedy fan since he was just a kid, Roberto Flores discovered the stand up comedy scene was just starting in Mexico City. This pushed him to try his luck onstage and to his surprise, people wanted to laugh at a neurotic 25-year-old who had serious issues with just about everything. He then signed up for the first ever stand up comedy festival in Mexico City and ended up among the winners.
Three years later he is still making people laugh all over Mexico and has managed to take his comedy to stages in the US as well, such as the La Jolla Comedy Store, Mad House Comedy Club in San Diego, and the Gotham Comedy Club in New York City.
At only 28-years-old, Roberto has taken his career further than stand up and writes for different TV late night shows and the latin version of The Soup on E! Entertainment Television, plus, he is saving up to buy some new shoes.
SORRY, CONTENT ACCESS RESTRICTED
This video contains TV-MA rated content. To access this video, you must register, provide your birthdate, and opt-in to receiving TV-MA rated content
This video is only available in an uncensored version. To access this video, you must register, provide your birth date, and opt-in to receiving uncensored content.
Cancel