Ron White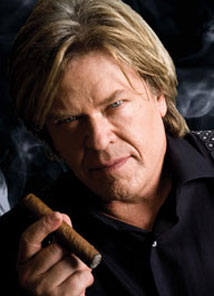 Rarely seen without a drink in one hand and a smoke in the other, comedian Ron White has had a career that has taken him from the cassette racks of truck stops to the world of stadiums and feature films, but all the while they've called him "Tater Salad."

The myth around the Fritch, Texas native's famous nickname has to do with a flippant remark made to an arresting police officer. He told the officer that he had once before broken the law under the sinister alias of "Tater Salad," the officer believed him, and it was forever on his arrest record. He later admitted that it was just something he picked up in the Navy, but he allows the myth to flourish since being a smart ass has been central to his act since the mid-'90s, when he released a string of albums on Laughing Hyena, a label that catered to truck stops with their "Trucker Humor!" labeled releases.

In 2000, he joined his longtime friends and fellow comedians Jeff Foxworthy, Bill Engvall, and Larry the Cable Guy on tour. The tour would become known as the Blue Collar Comedy Tour and would play to sold-out audiences in over 90 cities by 2003. It was in 2003 that Drunk in Public, White's first CD outside the world of truck stops, was released on Hip-O Records.

Two feature films and two albums for the Blue Collar Comedy troupe would also appear, but White would be the only member of the group to not participate in the Blue Collar TV series. Instead, he kept a busy schedule as a solo act, switched his onstage smoke from cigarettes to cigars, starred in the short-lived variety television series The Ron White Show in 2005, and released the CD You Can't Fix Stupid on the Image Entertainment label in 2006. The album wound up being nominated for a Grammy Award for Best Comedy Album, alongside the Blue Collar Comedy Tour's One for the Road. In 2009, he moved to the Capitol Records label and released Behavioral Problems. - David Jeffries, All Music Guide.
SORRY, CONTENT ACCESS RESTRICTED
This video contains TV-MA rated content. To access this video, you must register, provide your birthdate, and opt-in to receiving TV-MA rated content
This video is only available in an uncensored version. To access this video, you must register, provide your birth date, and opt-in to receiving uncensored content.
Cancel