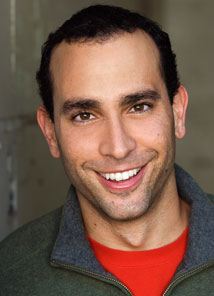 Ronnie Khalil Biography
Ronnie Khalil is an Egyptian American comedian quickly making an international name for himself. He was featured on Comedy Central's online series The Watch List, later picked up for a pilot, as well as several sketches for Late Night with Conan O'Brien. Other appearances include the Comedy Channel's Stand Up Australia, A&E TV's 15 Films about Madonna, and Showtime Arabia's Friday Night Live. He has been heard on Air America, NPR, and BBC, and has been seen on ABC News, CNN, and Al Jazeera, in a good way.

Khalil has participated in numerous comedy festivals, including the Boston Comedy Festival, the New York Underground Comedy Festival, LA Comedy Fest, and the New York Arab American Comedy Festival. He was also the winner of the South Beach Comedy Festival in 2006. Khalil was invited twice to Just for Pitching at the 2006 and 2007 Montreal Just for Laughs Comedy Festivals, and was a finalist for the Arab Screenwriter Award at the New York Arab American Comedy Festival.

Khalil also performed in the first ever Middle Eastern Comedy Festival in Amman, Jordan, and taped his second stand up comedy special with Showtime Arabia last December.